Resources
FMS McMahan Neon Tube Supports
In the early 1930s Arthur B. McMahan began design work on a unique new neon tube support. The resulting design introduced features which are widely used in glass support design to this day. A patent was applied for in February of 1934, and was awarded in January of 1936. Shortly thereafter, FMS purchased the McMahan company and patents and we began our tradition of quality and service which has continued for more than half a century.
All our supports are constructed of the highest grade materials for consistent quality, minimum installation time, and years of trouble-free service. Our brass bases are constructed of heavy-gauge spring temper brass which has been zinc plated to stand up under corrosive conditions. FMS tie wire is a special tin-plated soft copper that remains strong yet flexible for years.
We offer tube supports in several glass lengths and a variety of base styles along with extension posts and cut-off options to allow you to choose the right support for the job. Most models are available unassembled, assembled, or assembled with tie wires attached. Silicon coating in the saddle is also available on most models.
In general, our part numbers use "PA" for preassembled tube supports, "TW" for tube supports with tie-wires attached and "SD" for tube supports with silicone in the saddle. If we don't show the particular combination of features you are looking for, give us a call for custom fabrication.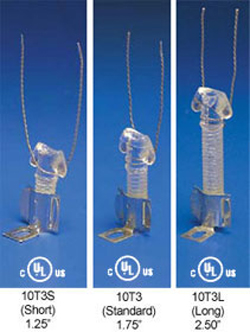 Model 10T3 Short, Standard and Long
This support features a 10mm diameter threaded glass stand which is 1-3/4" from center of saddle to end of stem. Our exclusive two piece spring temper brass base features two locking notches which hold the glass more securely than conventional one piece bases. The 10T3 is also available in a 1.25 inch short version (10T3S) and a 2.5 inch long version (10T3L). All heights are available with or without tie wires attached.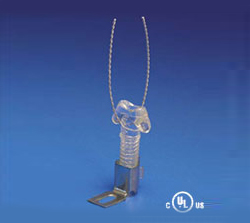 Model 52A & 52B
Our most economical tube support, the Model 52 features a one piece base in either aluminum or brass. The threaded glass stand is 10mm in diameter and measures 1-3/4" from center of saddle to end of stem. Also available with Short (1.25") or Long (2.50") glass.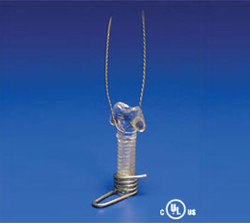 Model 30
Our Model 30 tube support features a coil spring base made from either stainless steel or zinc plated spring temper brass wire. The glass stand twists into the spring coil easily, but will not pull out when tube is attached. The Model 30 is particularly effective when used on fluorescent tubing which is installed and then subject to vibration in shipping, high winds, or other similar conditions. The Model 30 also features a threaded glass stand 10mm in diameter and 1-3/4" from center of saddle to end of stem. Also available with Short (1.25") or Long (2.50") glass.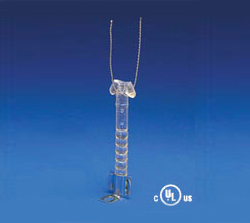 Model 835
The Model 835 tube support is designed for applications where more space is desired or necessary between the fluorescent tube and the sign face. The glass stand is 3-1/2 inches long with cutoff notches every quarter inch starting at 2 inches. The 835 features a two piece zinc plated spring temper brass base. Also available with glass cut to custom heights.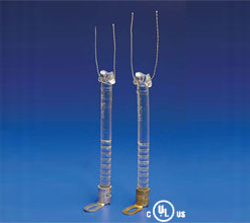 Model 500
For installations that benefit from increased glass height such as deep channel letters, the Model 500 provides 5-1/4" of clearance from the mounting surface. Available with brass or aluminum base, assembled or unassembled, with tie-wires or without. Also available with glass cut to custom heights.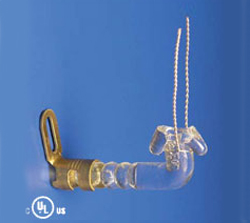 Model 90
The Model 90 is designed for use where straight tube supports are not practical, such as near double backs or on vertical surfaces. Silicone coating in the saddle cushions the tube and reduces shifting during transit or installation. The Model 90 provides approximately 1.75" of clearance from the mounting surface so it is compatible with standard length straight tube supports.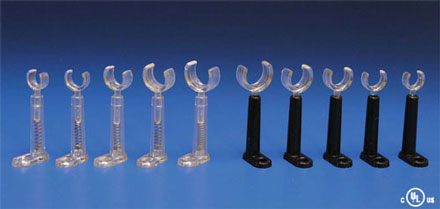 Snaplock Spring-Loaded Plastic
Spring-loaded plastic clips firmly grip neon tubes without the use of tie wire. Upon installation SnapLocks become nearly invisible to minimize visual clutter and give your signs a clean look. Off-set mounting flange allows proper positioning, and can be either glued or screwed to the mounting surface. Tough polycarbonate plastic and stainless steel spring make these units appropriate for virtually any interior or exterior application. Packed 100 per box, UL listed of course.
CART:

Store Log In